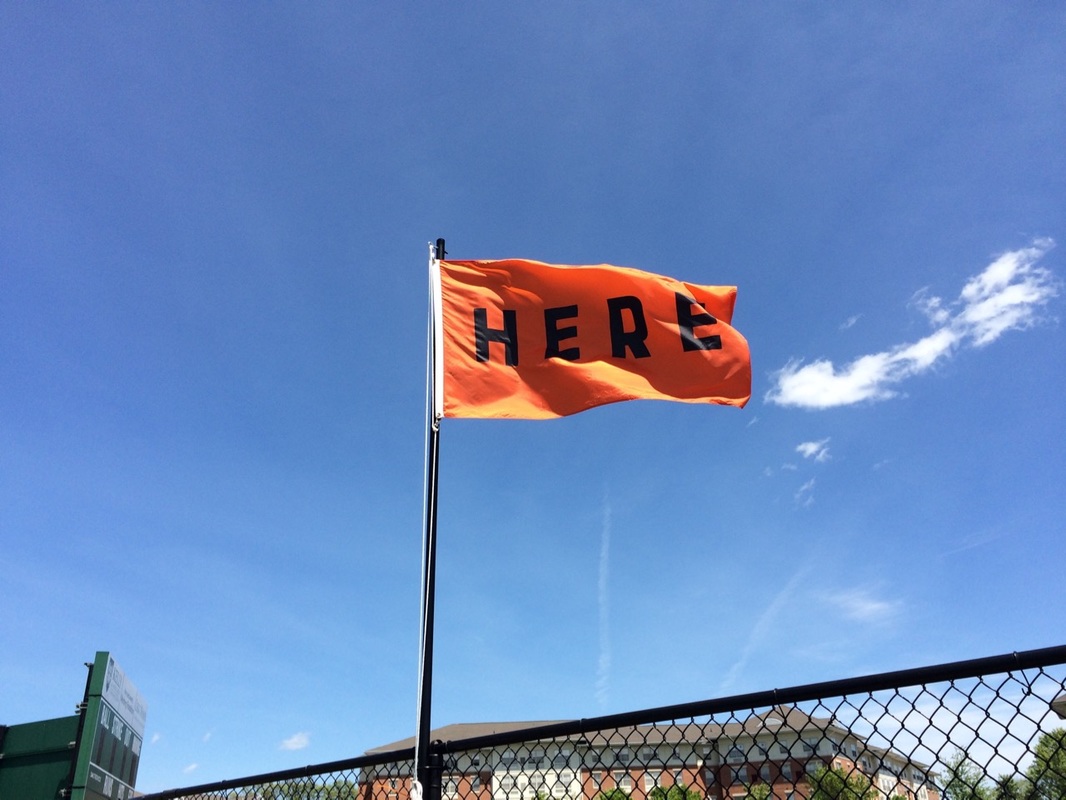 A new HERE flag was raised, May 8th, 2016. 50 years from the date of Frank Robinson's historic blast. The flag flies on the left field fence of the Ripken Field built on the spot of the former Memorial Stadium. We will raise and fly the flag on Sundays when the Orioles play at home this season. Come by on your way to Camden Yards.
On May 8th, 2016 we raised a replica of the original flag raised in 1966.
A legend was remembered. A team was honored. And the flag was raised.
Following the Flag Raising we held a Pitch Hit and Run Competition, played wiffle ball, and had a Home Run Derby.

Ethan G, 13 won the overall Pitch Hit and Run Competition and the 13/14 age group
Ethan A, 11 won the 11/12 age group
Alex M., 9 won the 9/10 age group
Alec A., won the 7/8 age group
And in the Home Run Derby Ethan G. showed up with a big bat and won! What did he eat for breakfast?
Hezron Lawrence of the Carver Vo-Tech Bears came in 2nd. Go Bears.
Thank you to our Partners
YMCA – Central MD – Weinberg 33rd street Y
Human and Rohde Architects, Devin Leary and Eric Vangrin
Brian Grieb – Grid Architects and Baseball Coach
Greg Houston - Illustrator and Partner in the Baltimore Academy of Illustration
Baltimore Academy of Illustration
Michael Rosenband – Coach – Carver Vo Tech Baseball
Greg Abel + Cole Simon - Abel Communications
Jim Melonas – Local Businessman, baseball guy, my dad
Baltimore Print Studios – technical help
FW Haxel, Co. – Original makers of the flag
Ednor Gardens – Lakeside Youth Recreation Committee
Northwood Baseball, Hamilton Baseball, Roland Park Baseball, Towson Rec Baseball, James Mosher Baseball
Troy Stokes Foundation
Local Color Flowers
My Family and Friends who helped and came out to play!
---
Fundraising
​
Proceeds from the Sale of Stickers, T-shirts, Posters, Hats will be donated to youth baseball programs.
If you can share a resource, want to be involved, or you or your business can sponsor the event send an email to
hitithere@here50.com
---
Genesis of the Idea:
​At first I thought it would be fun on May 8th 2016 to plant a new "HERE" flag at the spot where Frank's homerun landed. After thinking about it more, talking it over with friends and neighbors and researching more about Frank Robinson I thought I could make a bigger impact by connecting with neighbors to create a day of fun, baseball and community building. I want to inspire and connect our youth with Baltimore's rich sports history and heros. We are HERE!