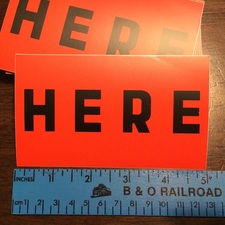 The Focus of HERE50 is to have fun, but, baseball people love T-Shirts, Hats, Stickers and other memorabilia!
We are now selling stickers the old fashioned way: Mail order!! Please send $2 cash in an envelope for each sticker to:
HERE50, 3620 Elkader Road, Baltimore, MD 21218. Please include your name and address. We will send your stickers right out in the mail.
​
The replica HERE (1966) flaq stickers are 3" x 5" thick, durable vinyl with a UV laminate that protects from scratching, rain and sunlight.
​
We are working on other products to sell soon:
posters
T-Shirts
Replica HERE Flags
All proceeds from sales will go to Youth Baseball programs
Stay Tuned for more.
---