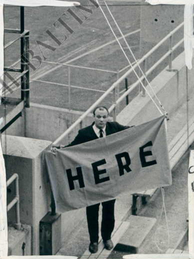 On May 8th, 1966, only 18 games into his career as an Oriole, Frank Robinson accomplished a feat that was never repeated at Baltimore's Memorial Stadium. In the first inning against the 14-1 Cleveland Indians, Mr. Robinson sent a pitch from Luis Tiant, All-Star pitcher who had not allowed a run in 27 straight innings, over the Left Field bleachers landing 451 feet from home plate and rolling another 90 feet, coming to rest under a car in the parking lot.
The HERE 50 project is created to commemorate this achievement, to recognize the impact Frank Robinson had on Baseball, to celebrate the 1966 World Champion Orioles, and to have some fun with the community.
​
The HERE 50 Project is inspired by my father's stories about the O's in the 60's and 70's, growing up an O's fan, living next to the former Memorial Stadium, being a youth baseball coach, and Dan Connolly's book
100 Things Orioles Fans Should Know & Do Before They Die
Caption: The HERE flag image is from the Archives of the Baltimore Sun.
May 20, 1966, taken just 12 days after the mammoth blow.
Photo is by Paul Hutchins, longtime photographer for the Sun.
About Mr. Hutchins
The original caption from the Baltimore Sun read, "Bucky Bray of the Sports Boosters prepares to hoist flag atop the left field stands at place cleared by Frank Robinson's May 8 home run off Cleveland's Luis Tiant - the first ever hit completely out of Stadium. A flag bearing the word 'HERE,' is raised over point where Frank Robinson's home run cleared Memorial Stadium and came to rest 540 feet from home plate."
Original Flag was made by F.W. Haxel Company, Baltimore, MD, founded in 1935.
The HERE 50 project is created by Mark Melonas, life-long Orioles fan, husband, dad, artist, youth baseball coach, and neighbor of the former Memorial Stadium.
markmelonas.net
---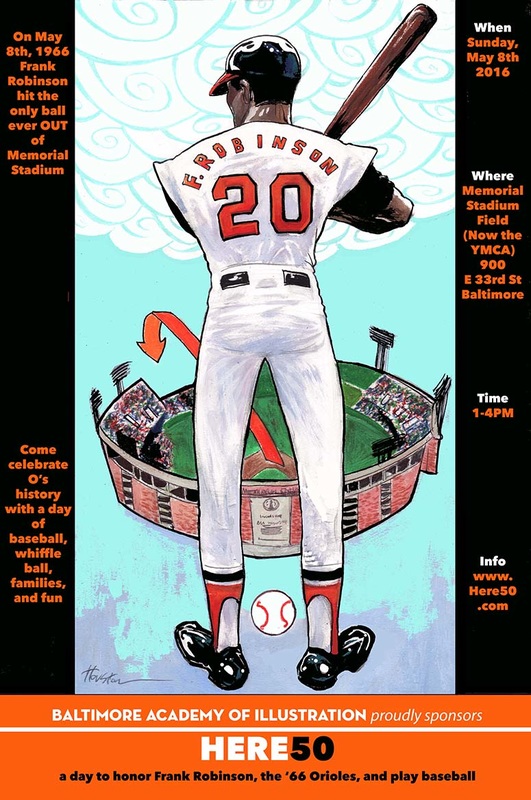 Poster by Greg Houston of the Baltimore Academy of Illustration